Eye-Que is one of 3 beginner karts you can choose from, it's appearance is a small light blue truck-like kart.
Cost: 5000 coins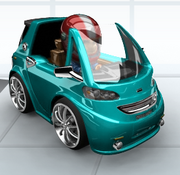 Road: 3187
Top speed:2751
Acceleration:4256
Handling:2553
Dirt: 3148
Top speed:2080
Acceleration:4256
Handling:3108
It's the most unpopular kart to choose from
Ad blocker interference detected!
Wikia is a free-to-use site that makes money from advertising. We have a modified experience for viewers using ad blockers

Wikia is not accessible if you've made further modifications. Remove the custom ad blocker rule(s) and the page will load as expected.