Alex is the main antagonist in KartWorld. She guides you to how to play the game, you can also add her as your worker.

Since the beginning, she gives you a firenzo and her car is a pinkette. Until the end, she will take the firenzo and lets you get to choose from 3 karts. Bug, Flux and Eye-Que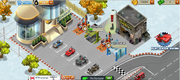 You can pick her to begin the event, simply Click on her profile, then click Begin Event. And random opponents will race Alex.
Lists of opponents:
Tankman
Pete
Norm_Pet
Quark
Alvarez
Alex (Or her doppelganger)
Norm_Do
Sam
Pedro
Norm_Ju
Alex can be seen driving a pinkette in the beginning. After that, she can be seen driving a bug throughout the whole game.
it is unknown why she gets a TeZ even you're/she's not level 40.
In the events, even through you choose the fastest cars for her, she might get 3rd or 2nd, rarely 1st.
It is unknown why in the events, a dog or a pet can drive a car.